Sponsorship
The MASC lets you show your true face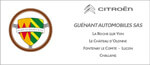 GROWING TOGETHER
Cultural patronage for the MASC implies commitment.
Companies, professionals in private practice or private individuals provide sustained support for a landmark museum whose national and international reputation is impressive for a city the size of Les Sables d'Olonne.
The museum is proud and honoured to receive each and every donation and acknowledges the benefactor's identity according to his or her wishes.
It is an exchange of mutual understanding, which allows each party to grow.
This two-way process of progression offers an artistic guarantee for the MASC and an indicator of generosity for the donor.
Becoming a patron of the MASC means:
- a commitment to supporting living art
- linking one's image to art
- opening one's network to culture
- enhancing the museum's outreach
You decide how your gifts* are used
- financing an artwork
- promoting an exhibition
- supporting an event
- becoming a sustainable partner through a long-time commitment
MASC Patronage Unit
Gilles Balle
gillesballe@gmail.com
Isabelle Gallot
isabellegallot-idiga85@gmail.com
Full documentation on MASC cultural patronage is available on request.
* Patronage grants the donor a tax deduction of 60 % of the amount tendered, up to 0.5 % of turnover (article 238bis of the Code Général des Impôts (General Tax Code ) – Law no. 2003-1311 of 1 August 2003 in favour of patronage