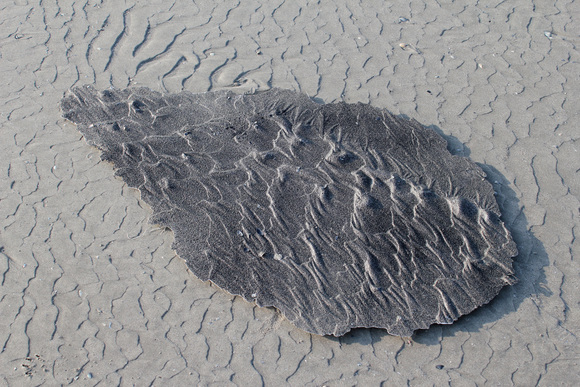 Thomas Tronel-Gauthier
Pour dernier terrain vague
Thomas Tronel-Gauthier's multi-faceted work is inspired by a vision of the world around him that is both analytical and poetic. The artist's relationship with the natural elements, the sea in particular, has led him to examine the physical world that forms our shelter and the memory of the phenomena governing it, allowing him to infer from this a whole set of works that embody its perpetual metamorphosis. The plaster casts of the ripples left by the sea that he takes in situ on the sand, the clones of volcanic rocks that he arranges in a rock slide, the traces that his ink-drenched words liberally diffuse speak volumes about the quest for an origin and a form of sedimentation of time.
A lover of history and culture, ever eager to go off and discover new situations, Thomas Tronel-Gauthier is always on the lookout for natural spaces, seeking to unravel the memory buried within them through a whole range of singular methods, in the manner of an archaeologist. Situations that speak of a blend of experience and imagination. In essence, the artist is in search of some unnameable or even unfathomable place, which has its roots at the dawn of a human history in which man enjoyed an existential link with nature. Between land art and minimalism, the work of Thomas Tronel-Gauthier may be seen as a reflection on our relationship to the world that prompts us to awaken our environmental awareness.
Thomas Tronel-Gauthier was born in Paris in 1982; he lives and works in Paris.
Curator: Philippe Piguet
Exhibition held at the Abbaye Saint-Jean d'Orbestier (rue de l'Abbaye) and in the Croisée de l'Abbaye Sainte-Croix art space, in association with the Ville du Château d'Olonne (City of Château d'Olonne).
Free admission.